Phone & WhatsApp Morocco: +212 661 41 95 16
Phone & WhatsApp U.K.: +44 785 972 49 20
Email: marrakechandcasablancatours@gmail.com

Program For Casablanca To Marrakech 3 Days guided trip:
Want a more personalized tour of Morocco? We'll help you create the perfect private tour. Explore the very b est of Morocco though independent, escorted, comfortable tours that create experiences available only through our travel advisors.
DAY 1: FROM CASABLANCA TO MARRAKECH
Depart from your city centre hotel or the Racine district in downtown Casablanca, and then travel by sedan, minivan or coach (depending on the size of the group) to Marrakech, roughly 2.5 hours away. On arrival, you'll explore the city on a guided tour led by your driver. See the city's main sights, historical landmarks and cultural attractions, including Menara Gardens, the beautifully decorated Saadian Tombs and Koutoubia Mosque, which is famous for its minaret tower that rises high above the rose-tinted city. Night in Marrakech including dinner.
DAY 2 : WALKING TOUR OF MARRAKECH
Today we explore exotic Marrakech in guided trip, in the so-called 'Rose City,' with a day trip from Casablanca. With your guide and small group, you'll wander along twisting alleys, through maze-like medinas and past Moroccan palaces encased in towering pink walls. See top attractions, from Bahia Palace to Koutoubia Mosque; visit the Meara Gardens; and ignite your senses with a trip to Djemaa el-Fna Square, where you'll rub shoulders with snake charmers, storytellers, fire-eaters, musicians, locals and tourists alike. Numbers are limited to 18 participants, ensuring a more personalized experience.
DAY 3 : MARRAKECH TO CASABLANCA
Today we may visit to Bahia Palace, which was designed to capture the essence of the Islamic and Moroccan styles, and then break for lunch (own expense) before moving on to Djemaa el-Fna Square. Gawk at the musicians, storytellers, snake charmers, fire-eaters and other entertainers that ply their trades in the square, and rub shoulders with locals and tourists alike as you navigate your way through the bustling area. Your tour then concludes in Casablanca in the evening after the 2.5-hour return drive.
Private 3 day tour from Casablanca to Marrakech
With a Private Casablanca Tour you can do exactly that but without all the logistical hassles and equipment needed that come with self drive. Ideal for adventurous families ...

We organize private 3 day tour from Casablanca to Marrakech. Enjoy walking excursion in Marrakech city including hotel stay in most popular Moroccan city.


Photography 3 day tour from Casablanca

Included in Private Tour from Casablanca:
All Hotel Transfers.
Private Travel with local driver.
A night in hotels / riads
Excursion with local guide
Breakfasts and dinners
Not included:
Entry fees, tips.
Lunches, soft drinks.
Availability:
Tours & Trips are available every day.
Reservation:
Online, by Email or Phone.
Important:
For 1 and more than 6 people contact us directly to calculate actual and best possible price for you. Thank you.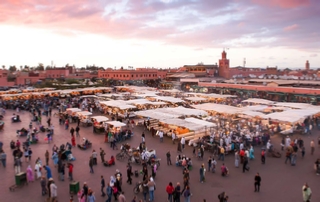 " It was a very nice experience, my son and i were very delighted to be with you guys, evey things was perfect the service was excelent for sure will try it again in soonest even my son is insesting to fix a date from now to be back Good luck and see you soon"
Taoufik77 / Riyadh, Scotland / Reviewed at January