Phone & WhatsApp Morocco: +212 661 41 95 16
Phone & WhatsApp U.K.: +44 785 972 49 20
Email: marrakechandcasablancatours@gmail.com

Program For private Tour to Fes in Morocco:
Morocco private tours tailored to your needs, highlights and hidden gems, family tours and experiences with passionate and qualified professional guides.
DAY 1: FROM CASABLANCA - RABAT - CHEFCHAOUEN
Pick-up from airport. Transfer to Rabat and Chefchaouen - known as the "Blue City". It was founded in 1471 by Moorish exiles from Spain. The Mediterranean diet of Chefchaouen was listed by UNESCO immaterial world heritage 2010. Overnight with dinner.
DAY 2 : CHEFCHAOUEN TO FES
Transfer to Fes - a medieval Medina, that, with its ramparts and narrow streets, was declared as UNESCO world heritage Site in 1981. Visit the Medersas constructed in the early 14th century, the Karaouine Mosque, and the Nejjarine Fountain, King palace and souks.
DAY 3 : GUIDED TOUR OF FES
All day devoted for visiting Fes, the oldest of the imperial cities, home to the world's first university dating from the 9th century and one of the most complete medieval cities in existence. Surrounded by huge defensive walls, it seems suspended in a time warp, somewhere between the Middle Ages and the modern. Guided visit of medieval Medina, Quaraouine University, Medersa Attarine, Kingdom Palace, Ben Denane synagogue, souks. Dinner included.
DAY 4 : FES TO MEKNES AND CASABLANCA
Meknes historical guided visit: Bab Mansour, granary and the royal stables then the Roman ruins of Volubilis, a UNESCO World Heritage site, stretched out over 40 hectares, are the most well preserved ruins in Morocco. Arrival to Rabat where we explore main sights. Rabat Guided visit includes : Kingdom Palace, Oudaya Kasbah, Chellah Necropolis, Hassan Tour a wonder of the medieval Moorish world with its great minaret left unfinished, Kingdom Mohamed V mausoleum . Then departure for Casablanca , arrival and visit the Mosque Hassan II , one of the largest religious building in the world. End of the tour.
Private 4 day tour from Casablanca to Marrakech
Casablanca everyday private tour for unbeatable price includes transfer with experienced driver, explore Rif mountains. We organize private 4 day tour from Casablanca to Fes and Chefchaouen in Rif mountains. Explore most important city of Morocco including blue-white village.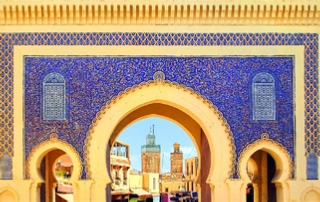 Photography 3 day tour from Casablanca

Included in Private Tour from Casablanca:
All Hotel Transfers.
Private Travel with local driver.
A night in hotels / riads
Medina excursion with local guide
Breakfasts and dinners
Not included:
Entry fees, tips.
Lunches, soft drinks.
Availability:
Tours & Trips are available every day.
Reservation:
Online, by Email or Phone.
Important:
For 1 and more than 6 people contact us directly to calculate actual and best possible price for you. Thank you.
" It was a very nice experience, my son and i were very delighted to be with you guys, evey things was perfect the service was excelent for sure will try it again in soonest even my son is insesting to fix a date from now to be back Good luck and see you soon"
Taoufik77 / Riyadh, Scotland / Reviewed at January