Phone & WhatsApp Morocco: +212 661 41 95 16
Phone & WhatsApp U.K.: +44 785 972 49 20
Email: marrakechandcasablancatours@gmail.com

Program For Morocco private travel:
Browse our website for escorted tours of Morocco and see the best Sahara tours ... Casablanca tour package – from Marrakech ... Guided Tours ... adventure 6 days travel from Casablanca...
DAY 1: Casablanca To Marrakech
A good portion of the day is spent along the way while heading from Casablanca to Marrakech.
DAY 2 : Marrakech to Zagora via Ouarzazate
The road movement towards Zagora is expected to begin at 7:30 am. An interesting sight of the High Atlas is seen while going through Tizi n'Tichka. A stop-over for launch is also observed at Ouarzazate. A tour of some villages is also experienced, village Agdez is visited to view the source of the Draa Valley and to catch a glimpse of its six palm groves. The journey then continues while using and experiencing the pre-Saharan routes that lead to Zagora. Zagora which provides the location for the first stay at night is known to be the birthplace of the famous Saadian dynasty. Night time and dinner are served at the camp in Zagora (Bivouac in Zagora.)
DAY 3 : Zagora to Merzouga via Erfoud
The journey from Zagora to Merzouga begins with the need to stop at different locations such as palm Mellal, Tazzarine and also Ainif. The journey involves going through an extensive rocky plain. Launch is provided along the way, while dinner is served at Bivouac in Merzouga. The night is spent at Bizouga, thereby providing an opportunity to view the beautiful panoramic view of the Merzouga dunes during sunrise.
DAY 4 : Erfoud to Tinerhir via Todra
The journey to Tinerhir is accompanied with an exciting view of the Todra Gorges and the rocky cliffs in the area. Todra provides a good location for dinner, while dinner is served at Tinerhir with accommodation made available in a guest house.
DAY 5 : Tinerhir to Marrakech via Ouarzazate
The path used for this journey is nicknamed; 'Thousands Kasbahs'. The route provides an opportunity to encounter the ksours, kasbahs and fortified villages in the vicinity. An exciting time is experienced at the location visiting Ait Ben Haddou, Kasbah Taourirt and other UNESCO world heritage sites. Also, Launch is served at Ouarzazate. The exploration for the day continues with the movement towards Marrakech by Tizin Tichka.
DAY 5 : Casablanca to Marrakech
A good portion of the day is spent along the way while heading to Casablanca from Marrakech.
adventure 6 days Sahara travel from Casablanca
We specialize in walking and desert tours. We have Marrakech city and Zagora 1desert walks, camel trips , history tours, and much ..

There is no better place to see Morocco's landscapes than in its Sahara desert ,and there is no better way to travel than with us. Experience the beauty of Atlas mountains and Merzouga dunes...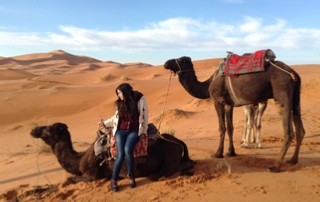 Photography adventure 6 days Sahara travel

Included in Private Tour from Casablanca:
All Hotel Transfers.
Private Travel with local driver.
A night in hotels / riads / camp
Merzouga desert excursion with local guide
Breakfasts and dinners
Not included:
Entry fees, tips.
Lunches, soft drinks.
Availability:
Tours & Trips are available every day.
Reservation:
Online, by Email or Phone.
Important:
For 1 and more than 6 people contact us directly to calculate actual and best possible price for you. Thank you.
" It was a very nice experience, my son and i were very delighted to be with you guys, evey things was perfect the service was excelent for sure will try it again in soonest even my son is insesting to fix a date from now to be back Good luck and see you soon"
Taoufik77 / Riyadh, Scotland / Reviewed at January