Phone & WhatsApp Morocco: +212 661 41 95 16
Phone & WhatsApp U.K.: +44 785 972 49 20
Email: marrakechandcasablancatours@gmail.com

explore Fes in walking day trip from Casablanca:
Relive a glorious medieval past in Fes city and feast your senses on its sights and sounds. Established in 790 by Moulay Idriss, Fes is the cradle of a millennium monarchy, it was for a long period the capital of the Cherifian empire.
It has preserved its historical background and has kept its role as an Islamic city intact for years. For this sightseeing Fes Private Day Tour, your private courteous driver will pick you up from your hotel at 07:00 AM in an air-conditioned brand new Minivan including WiFi and mineral water. The transfer to Fes is about 3 hours drive. Upon arrival, you will meet your friendly professional guide to enjoy the rest day in Fes.
What you explore :
Begin your full-day tour with your professional guide at Bab Boujloud, the ornate blue gate leading into the Medina, and head to the magnificent Moulay Idriss Mausoleum.Next, you'll visit the medieval university of Al-Qarawiyyin, which is both a university and a mosque situated in the heart of the medina.
UNESCO has named it the oldest continuously functioning educational institution in the world. It has played a unique part in Islamic history, as one of the leading spiritual and educational centres of the Muslim world.Pass by other schools such as the Madrasa Bouanania built by Sultan Abu Inan Faris and the Madrasa Al-Attarine created by Sultan Uthman II Abu Said.
Visit the Nejjarine fountain, see the city's tannery, a fascinating place that is the largest tannery in Africa. Visit the Mellah or Jewish Quarter and the old Ibn Danan Synagogue, dating from the 17th century. After this wonderful discovery tour, at around 4:30 pm, you will drive back to Casablanca. Your courteous driver will drop you off at your Hotel.
PRIVATE DAY TRIP FROM CASABLANCA TO FES
We organize for you popular private day trip and excursions from Casablanca in Morocco including hotel pick up, Private Transfers and guided tour.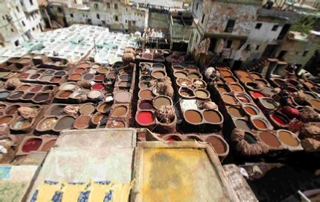 Photography Day trip from Casablanca to Fes

INCLUDED IN DAY TRIP:
All Hotel Transfers.
Private Travel with local driver.
Guided excursion
Drop off at your hotel
NOT INCLUDED:
Entree fees to attractions,tips
Lunch and drinks.
AVAILABILITY:
Tours & Trips are available every day.
RESERVATION:
Online, by Email or Phone.
IMPORTANT:
For 1 and more than 6 people contact us directly to calculate actual and best possible price for you. Thank you.
" It was a very nice experience, my son and i were very delighted to be with you guys, evey things was perfect the service was excelent for sure will try it again in soonest even my son is insesting to fix a date from now to be back Good luck and see you soon"
Taoufik77 / Riyadh, Scotland / Reviewed at January