Phone & WhatsApp Morocco: +212 661 41 95 16
Phone & WhatsApp U.K.: +44 785 972 49 20
Email: marrakechandcasablancatours@gmail.com
Private day Trip from Marrakech to Essaouira:
Embark on an unique journey from Marrakech to the seaside city of Essaouira on full-day tour. Explore the sights and sounds of this vibrant city, soaking in hundreds of years of culture and history.
What you explore :
Essaouira is located at 175 km from Marrakech, it is sea-side medieval city with an old portuguese harbour. Essaouira, the old Mogador, is known for its annual festival of "Gnaoua music", its medina is listed as a UNESCO world heritage site. A day trip from Marrakech to Essaouira makes visitors plaisant thanks to its climate and the variety of Essaouira's highlights that they visit : Place Moulay El Hassan, The Skala, the harbour, the ramparts the Jewish distcrit called "Derb Lealouj".
You can gaze at a panoramic view of Essaouira, a charming and artistic blue and white town. Once you arrive to Essaouira you can explore its peculiar wonders at your leisure. Stroll along the quays, where you can watch fishermen unloading their catch of the day and fishing boats coming back to shore, or enjoy the many good restaurants at the part and dine on fresh fish and seafood.
Essaouira is a picturesque and divers town where you can explore the historic ramparts and visit the Medina full of local artists selling their crafts made of thuya wood. The ramparts will give you an insight in to how this old seaport village was armed against the threat of invasion.
Parquetry still remains a traditional speciality of Essaouira, and another beautiful attraction of the region is its tranquil beach, where you could easily spend a relaxing and peaceful afternoon.
DAY TRIP FROM MARRAKECH TO ESSAOUIRA ON ATLANTIC COAST
We organize for you popular private day trip and excursions from Marrakech including hotel pick up, Private Transfers and guided tour.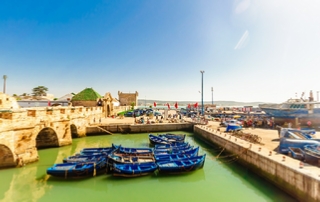 Photography Day Trip from Marrakech to Essaouira

INCLUDED IN DAY TRIP:
All Hotel Transfers.
Private Travel with local driver.
Guided excursion from Marrakech
Drop off at your hotel
NOT INCLUDED:
Entree fees to attractions,tips
Lunch and drinks.
AVAILABILITY:
Tours & Trips are available every day.
RESERVATION:
Online, by Email or Phone.
IMPORTANT:
For 1 and more than 6 people contact us directly to calculate actual and best possible price for you. Thank you.
" It was a very nice experience, my son and i were very delighted to be with you guys, evey things was perfect the service was excelent for sure will try it again in soonest even my son is insesting to fix a date from now to be back Good luck and see you soon"
Taoufik77 / Riyadh, Scotland / Reviewed at January